I am an International Speaker, Therapist and Forerunner for Cancer Survivors Enhanced Quality of Life.
With 1 out 3 people on the planet affected by cancer, my proprietary system is designed for cancer survivors who are struggling with the mental aspects of the disease and fear of recurrence. Cancer induces fear and leaves permanent emotional and psychological scars when left untreated.
Through my Stress to Strength program, including Mindfulness Based Cancer Recovery, our clients have a better quality of life which helps them regain ownership and control of their life.
With 30 years of experience in healthcare and stress management, I combine Eastern and Western medicine together with physical and mental training. I have a Master exam in Medical Qigong with clinic work in China and Japan. 
In the United States I studied for Dr Carl Simonton at the Simonton Cancer Center and I have also studied Cognitive Behavioural Therapy, Neuro Linguistic Programming and Motivational Interviewing.
 I have written a few books and the latest book Reflections is a co-write with my husband. It is about Hope, Healing, Facing Fears and Finding Purpose.  The book can be bought through any major platform and from me. As a bonus I will send you a workbook that accompany the book and highlights the most important lessons. Free workbook: Reflections, a Suporting Workbook
 Let me know how I can be of help!
                                  www.stresstostrength.se               www.fiahobbs.com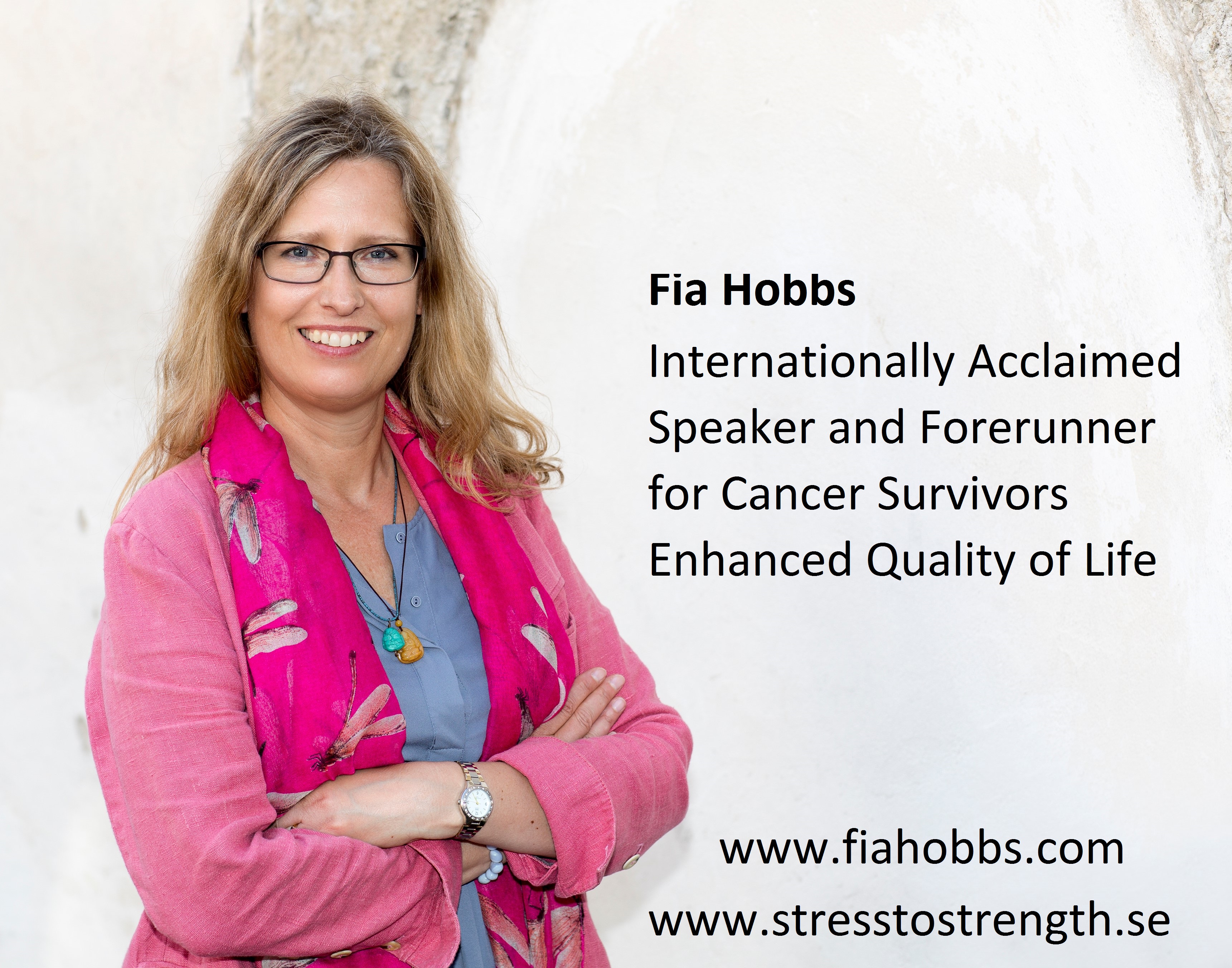 Q & A
Here are some common questions
Question #1 How long do I get to keep the course and have access to consultation?
Once you have bought the course it is yours and you do it at your own pace. You can go back and repeat it anytime. When it comes to consultation you can contact me and book conseling when you need it.
Question #2 I currently undergo treatments, is the course helpful for me?
Yes, many people are asking for support all the way from first diagnosis to being declared cancerfree. The online course has modules for everybody and deals with the psycho-social aspects of the disease on a physical, mental, emotional and existential level. 
Question #3 What is the difference between Mindful Living and Mindfulness?
The type of mindfulness that is the the base here comes from MBCR, Mindfulness Based Cancer Recovery Program. It originates from Canada and is being used in hospitals and now spreading internationally. I look at the bigger picture and combine it with Cancer Wellness to be able to look at both mindset and lifestyle.
Question #4 Will there be updates and how will I be able to get hold of them?
I do updates of the course whenever I have something new I want to share. This happens automatically for you and you don't have to do anything. You log in to your course as usual and the updates will be there.